Some Guy With a Website (and a new book!)
Godspeed, President Meal Ticket , August J. Pollak's latest book of hilarious left-wing political cartoons, is now available!
He's Gone.

After eight years of dealing with his daily embarrassments, it's time for one cartoonist to admit how beneficial President George W. Bush was to the well-honed craft of making fun of very stupid people.

In this final salute to waning days of the worst administration ever, please enjoy August J. Pollak's scathing political cartoons and heavily abundant diatribes. Some Guy With a Website presents another year of mocking not only the president, but a vapid media culture, stupid celebrity worship, and a seemingly endless primary season.

There is also a strip with a monkey in it.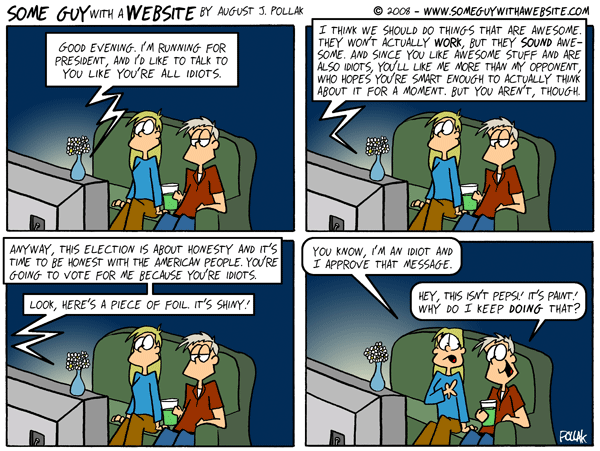 "Sarcastic... cynical... negative... dismissive... what's not to like?"
-Joel Pett, 2000 Pulitzer Prize winner for Editorial Cartooning
"...Smart and insightful and often laugh-out-loud funny; definitely a young cartoonist to watch."
-Tom Tomorrow, This Modern World
"Smart, poignant and often politically charged... but don't let that stop you, it's pretty funny too!"
-Andrew Bell, The Creatures In My Head
"FYI ... may just be the answer to the FAQ in this modern world full of SNAFU and WWF... or maybe it's the BLT."
-Matt Wuerker, The Politico
"If you're not keeping up with August's cartoons, you really should be."
-Ezra Klein, The American Prospect