I am beautiful, no matter what you say. Your words can't bring me down.
August J. Pollak can be reached via e-mail at

.
There's a Facebook page for fans of the strip. I do have a personal Facebook profile, but I only accept friends I actually know. Nothing personal, it's just, you know, personal.
If you interested in freelance work or reprint rights for a cartoon, please keep in mind that in almost all cases I would really like to be paid for it.
If you are writing to deliver comments, questions, or links you think I'd like in regards to the weblog, then please take note of the following before doing so: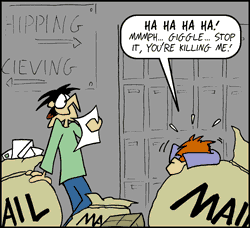 Assume if you write me that your message, as well as your name and e-mail address, may be posted on the site. If you do not want your name/address mentioned should I reprint your e-mail, feel free to request as such.
Do not include attachments. Unless I already know you it'll come in as spam and I'll never even see it.
Do not put me on your site's "mailing list." If you start spamming me everything you write I'm blocking you. I'm sorry if that's harsh but I can't answer personal e-mails if impersonal ones start flooding my inbox. If you do this and tell me "if I don't want to be on my list, respond to me," I won't. I'll just block you.
Do not ask me to exchange links or give you a special mention. If you mention you're a blogger, odds are I'll look at your blog or your website. That does not guarantee I'll mention it, or for that matter like it. Sorry. Asking/begging me to link to you as the sole purpose of your e-mail does not curry my favor. The easiest way to get a link to your website is to make a good website, which I can't help you with.
You do not ever need to send me links to anyone on my links page, or anything that you found as a link from them. I read these sites every day, and therefore anything I found interesting on them I've already mentioned or will mention soon.
If you are a Nigerian with a penchant for writing in all-caps who requires my financial information for the purpose of transmitting several million dollars in gold bars from an undisclosed vault, please take up such affiars with my accountant. If you are an internet marketer, please note that I have all the printer ink and I need and that I am already perfectly comfortable with both the size of my penis and its functionality.
Frequently asked questions about the strip, the characters, and other stuff can be found here.